This is the 3rd day of fasting and prayer. The Word for today is "God is Birthing a New Thing!"
What a joy to wake up with TWO good news!
The first GOOD NEWS!
Yesterday the UK had a general election. I wrote an article about Brexit – leaving the EU. You should read it. It's so encouraging to see things start shifting and moving.
In August this year, God sent me to the House of Parliament to make some declarations. Before I left, I saw two huge angels at the House of Commons standing by two sides of a speaker's chair. Sadly, the speaker we had was not too keen on Brexit and did everything to overturn the will of people. Then the Lord said God was going to be people's voice. What do you think? Not too long after that, the speaker stood down.
Another breakthrough – our Prime Minister wanted a general election, but many in Parliament opposed it. After all the battle, eventually, they all agreed the election had to take place. On the 12th of December people in the UK went to polling stations to vote. And today… I woke up with great news. It looks like we are moving forward with Brexit. It was the best election for Conservative Party (who wanted Brexit done) since Margaret Thatcher's time.
The second GOOD NEWS!
A very close friend of mine got pregnant, I think it was in 2018, but sadly she lost her baby during her pregnancy. It was a very painful experience, not only emotionally, but physically. She had to go through a very painful surgery. The doctors made their verdict she would never be able to conceive and have a child.
I thank God for prophetic dreams. He always reveals to me many things through dreams and visions. At that time I did not know my friend lost the baby. I had a dream of a little boy. He was the son of my friend. I knew something bad happened to him, but he looked quite well and healthy in the dream. After that dream, I had a phone call from my friend. She told me she lost her baby. I thank God He warned me beforehand. I was able to encourage her that she had the son and he was in a better place. We had a few sessions of prayer and broke every curse which was spoken by the doctors and spoke the words of life and fruitfulness into her womb.
In spring this year, I was on a bus and I felt to send a message to my friend and ask, "When are you going to get pregnant? Why are you still not giving me baby news?" But I hesitated. I said, "Lord can I send this kind of message? I do not want to hurt her." I decided consciously to approach her with this.
I took my phone and started to write… What do you think? While I was writing, at the same time my friend sent me a message. She said, "Hi." Just before me sending her a question about pregnancy, she sent another message, "We've got news for you." I asked, "Got pregnant?" She answered with a big surprise, "How do you know? I did not tell anyone." Then she continued, "She saw a dream of me. I came to her in the dream and said, "Congratulations." I love God. He is so awesome, amazing, magnificent! I am in the dreams and congratulate people before my physical body is ready to do that. By the way, I told her she was with a boy child.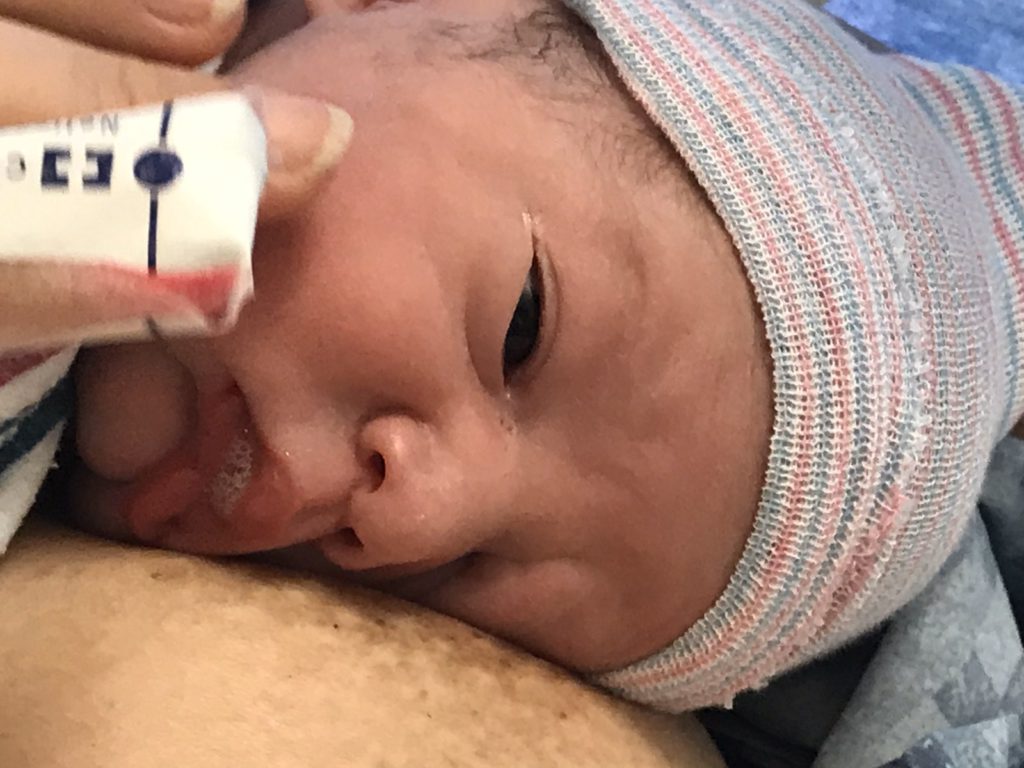 So today, when I woke up I saw a few messages sent to me. They were from my friend's sister. She sent me pictures of a beautiful baby, whose name is David and who was born on the 12th of December 2019. God gave them a son. They promised I would be the first to see pictures and first to know they were in a labour ward. Sadly, because if time difference I was sleeping, but it was nice of them to think about me.
The Lord did a miracle. It does not matter what people say, what doctors say, the Lord and only Him can perform the miracle. My friend is not too young to have children through the eyes of this world, but God's thoughts sweep away the thoughts of this world.
God WILL DO a Miracle in Your Life
Do you need a miracle? Do you see yourself being in a situation when abundant life was cut off and you carry poverty, shame, physical abuse given to you by the enemy? I call all diseases – physical abuse.
But not anymore. You are not under curse but under God's blessings. The Good news is on its way. God is bringing good news into your home, birthing a new thing and doing a new miracle in your life!
I feel your faith is a little bit shrunk because of the worries and stress which affected you. The Lord is stretching your faith, stretching your spiritual imagination, stretching your spiritual walk.
God will open doors before you and no fortified gate will remain closed. He will go ahead of you, making the crooked path straight and clearing the road ahead of you. The angels are marching and levelling every obstacle in your life. Whatever was hidden from you is going to be revealed. Whatever was taken from you is going to be restored.
If this word has spoken to you and encouraged you, please leave your message in the comments below. I would love to hear what the Lord is saying to you about your future and 2020. Stay blessed!
21 Days of Fasting Posts:
Latest Articles: