Have you ever felt like there's something holding you back, hindering your self-expression, stopping you from moving forward in life?
In "What is Holding You Back? – Unlock Your True Potential in Christ", we discover what holds you back from progressing in life as we explore self-awareness, identifying limiting beliefs, negative thoughts, and fears. By addressing these obstacles, we will break free from the chains that hinder our potential. 
Maybe you started off with great excitement, convinced that this was the year you'd achieve your goals and dreams. But then, out of nowhere, you were pushed back to square one, unable to make progress. 
It's as if there's an invisible force preventing you from moving forward.
"Holding Back" often stems from reluctance, selfishness, and fear. It hinders our self-expression, restricts our ability to help others, and limits our potential in relationships and life.
Embracing the power of Christ and His teachings enables us to unlock our true potential and live a fulfilling life aligned with His purpose.
Get ready to embark on a journey of personal growth, break free from limitations, and release the potential that lies within you through your faith.
The Desire for a Fresh Start: My Journey of Letting Go and Discovering New Beginnings 
If you sense that something is preventing you from progressing, I empathize with your emotions completely.
It wasn't too long ago that I felt the strong urge to make a fresh start and begin a new chapter in my life. I was so certain that it was the right decision, but there seemed to be something holding me back.
The Dream Came True: A Ministry Filled with Purpose
The ministry I was involved in was truly a dream come true, and I thank God for that incredible opportunity. There's something special about being part of a church or ministry that passionately shares the Gospel of Jesus Christ, bringing healing and restoration to people's lives. 
I always dreamed of being in a supportive community of like-minded individuals in such an environment.
Knowing When to Say Goodbye: The Difficult Decision to Move On
However, there came a time when I knew deep down that I had to say goodbye and start afresh. Let me tell you, my friend, that step was incredibly difficult to take. It required a tremendous amount of courage. 
I didn't take that step immediately. Two years went by, and my desire to move on only grew stronger, yet I kept procrastinating. 
Embracing the Unknown: Answering God's Call to Step Out of the Comfort Zone
Before I finally mustered up the nerve to speak to my director about leaving, my hands were shaking, my voice was trembling. Once I shared my intentions with the leaders, a sense of relief washed over me. But the battles weren't over. 
I had no idea where I was headed, or what my next steps would be. It was during this time of uncertainty I felt God's calling, urging me to step out of my comfort zone and embrace new opportunities. 
Looking back, I'm so grateful I took that first step, as it led me to countless opportunities and doors swinging wide open.
1. Breaking Free: Identifying Limiting Beliefs
Each of us has tremendous potential within, waiting to be unlocked. 
However, there are often chains that hold us back from realizing our true capabilities. 
What can we do to be free from those chains?
➊ Recognize Your Constraints
In our Christian journey, self-awareness is a precious gift from God for personal growth. It enables us to recognize the chains that hold us back from experiencing the fullness of His blessings and purpose for our lives. 
These chains can manifest as doubts, fears, and negative thought patterns that limit our faith and hinder our spiritual growth. However, through the power of the Holy Spirit, we can cultivate a deep sense of self-awareness, allowing us to identify and confront these barriers.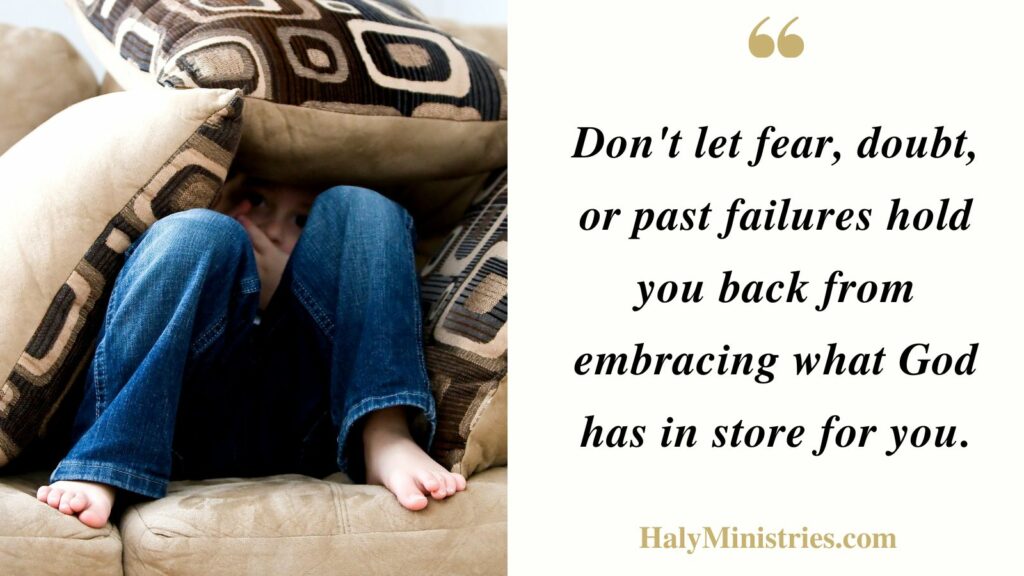 As we shine the light of God's truth on the areas where we are holding ourselves back, we can surrender them to Him and take intentional steps toward breaking free. 
With God's guidance and our willingness to be transformed, we can overcome these chains, walk in the freedom He has promised, and fulfill our God-given potential.
➋ Break Free from Internal Obstacles
Let's take a moment to explore the power of unmasking limiting beliefs that often hold us back from experiencing the abundant life God has planned for us. 
Sometimes, deep within our hearts, we carry internal factors that restrict our potential. These factors can be in the form of negative thoughts, self-doubt, or fear. 
They whisper lies, telling us we're not worthy or capable of achieving great things in Christ. 
But here's the good news: through the transformative work of the Holy Spirit, we can overcome these internal barriers. 
By renewing your mind with the truth of God's Word, you can unmask these limiting beliefs and replace them with His promises. 
As you align your thoughts with God's perspective, you discover the unlimited potential He has placed within you. 
With God's strength and guidance, you can rise above and step into the fullness of your God-given potential.
➌ Break Free from External Influences
External Influences are as important as internal obstacles. And you should not ignore it. I would like to go a bit deeper into this.
‣ Identify Obstacles to Spiritual Growth
As Christians, we are called to grow in our faith and pursue a deeper relationship with God. However, external influences can often hinder our spiritual progress and prevent us from fully embracing God's plan for our lives. 
Don't Let Anyone to Steal Your Peace
These influences can come in the form of negative relationships, worldly distractions, or pressures that draw us away from our commitment to Christ.
To overcome these obstacles, you must first identify and acknowledge the external influences that are impacting you.
This requires a conscious evaluation of your surroundings, relationships, and activities. Are they aligning with God's Word and nurturing your spiritual well-being, or are they pulling you away from your faith?
Are you being pulled away from your faith by something or someone?
‣ Take Steps to Overcome Obstacles
Once you have recognized these influences, you can take deliberate steps to distance yourself from them. This may involve setting healthy boundaries, making intentional choices about the media you consume, or seeking support from a community of like-minded believers.
‣ Prioritize God and Build a Supportive Community
Breaking free from external influences is an ongoing process that requires perseverance and reliance on God's strength. Through prayer and seeking His guidance, you can resist the negative influences that come your way and experience true spiritual growth.
Seek God's wisdom and surround yourself with a community that encourages and supports your faith journey. By doing so, you can overcome negative influences and truly grow spiritually.
2. Overcoming Obstacles: Clearing the Path to Potential
Life is a journey filled with twists, turns, and unexpected hurdles that often stand in the way of our dreams and aspirations.
As a believer in Christ, you are not exempt from facing obstacles. In fact, the enemy specifically targets those who are committed to living out their God-given purpose.
But I want to encourage you today that with God on your side, you have the power to overcome every obstacle and clear the path to your true potential.
How can you clear the path to your potential that you have in Christ?
➊ Acknowledge the Obstacles
The first step in overcoming obstacles is to acknowledge their presence. 
At times, we tend to overlook or underestimate the challenges we encounter, hoping they will vanish on their own. But the truth is, facing them is the only way to move forward. 
Take a moment to reflect on the obstacles that have been hindering your progress. Is it fear, doubt, past failures, or external pressures? Identify them and bring them before God in prayer.
➋ Find Strength in God and Believers
Next, remember that you are not alone in this journey. God is with you every step of the way, ready to provide you with the strength and wisdom you need. He promises to never leave you nor forsake you (Hebrews 13:5). 
Seek His guidance and rely on His power to help you overcome. Surrounding yourself with a supportive community of fellow believers who can uplift you, pray with you, and offer godly counsel is very crucial.
➌ Renew Your Mind
It's also vital to renew your mind with God's Word. The Bible is a source of wisdom, encouragement, and truth. 
Fill your heart and mind with the promises and principles found in Scripture. Let them guide your thoughts, actions, and decisions. 
As you align your thoughts with God's truth, you will gain a fresh perspective on the challenges you face.
➍ Embrace Perseverance
Lastly, embrace a mindset of perseverance. Understand that overcoming obstacles takes time and effort. Don't let setbacks discourage you. 
Instead, see them as opportunities for growth and learning. Keep pressing forward, trusting that God is working all things together for your good (Romans 8:28).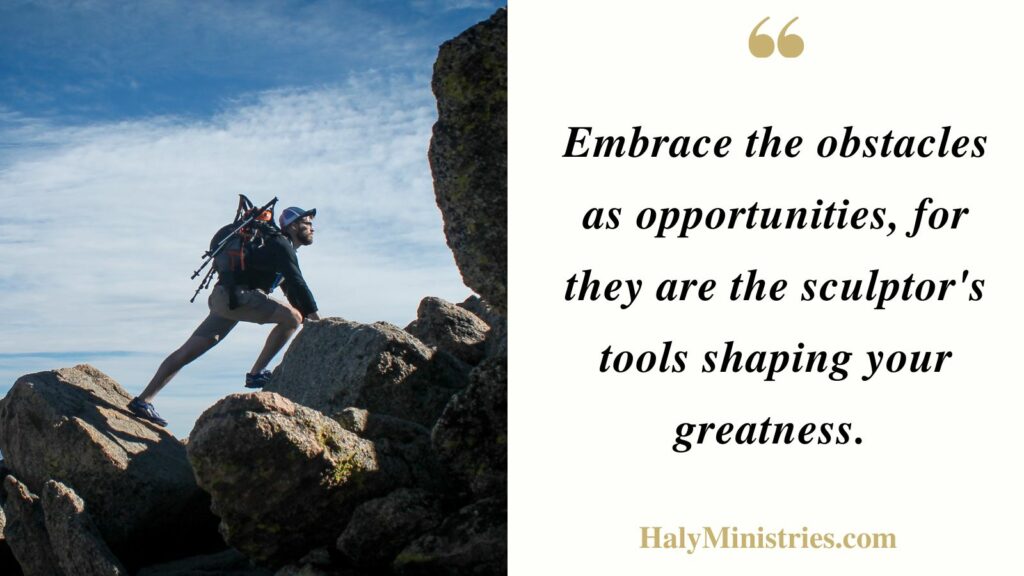 Remember, dear friend, the obstacles in your path are not there to defeat you but to refine you. With faith, perseverance, and the power of God, you can clear the path to your true potential. 
Welcome the adventure, as within the triumph over challenges, you shall discover a strength and resilience you never knew you had. Trust in the Lord, lean on His promises and watch as He leads you to the abundant life He has prepared for you.
3. Unlocking Your True Potential: Embracing Christ's Power
➊ Discover the Source of True Potential
As a believer in Christ, you have incredible potential that goes beyond your natural abilities.
The key to unlocking your true potential lies in embracing the power of Christ that resides within you. Ephesians 3:20 reminds us of this truth. God exceeds all we ask or think. And He can do far beyond our ability.
God's power transcends our human limitations. He can accomplish far beyond what we can comprehend or imagine. When you surrender your life to Christ, His Spirit will empower you to do extraordinary things.
Inspiring Articles Worth Reading: 

The Benefits and Results of Walking with God
Do Not Surrender to Fear
It's easy to underestimate yourself, to doubt your capabilities. But when you tap into the power of Christ, you tap into a limitless source of strength, wisdom, and creativity.
It's God, Who enables you to surpass your own expectations and reach heights you never thought possible.
➋ Surrender to God's Guidance
To fully unlock your potential, it is essential to surrender your life to Christ and invite Him to take the lead. 
Acknowledge that your strength alone is limited, but with Christ, all things are possible. 
Allow His Spirit to guide and transform you from the inside out. Release control and trust in His perfect plan for your life. As you yield to His guidance, you will experience a newfound freedom and a deeper connection with your true purpose.
➌ Embrace God's Power: Stepping into the Extraordinary
When you embrace the power of Christ, you tap into a supernatural force that enables you to go beyond your perceived limitations. 
It is through His strength that you can overcome obstacles, face challenges with courage, and accomplish things that surpass your wildest dreams. 
As you align your heart with His purposes and seek His will, He will empower you to impact the world around you.
Allow the love and power of Christ to flow through you, transforming your life and the lives of those around you.
Don't let fear, doubt, or past failures hold you back from embracing what God has in store for you. Step into the extraordinary by unlocking your true potential through embracing Christ's power. Trust in His faithfulness, lean on His strength, and let His love guide you on this remarkable journey.
4. God Wants You to Succeed – This is The TRUTH
The main thing you have to take from this is that God Wants you to Succeed! This is THE TRUTH! So, if anyone shares an alternate narrative, it's nothing but a lie.
➊ God's Goodness for You
I want to remind you of the amazing truth found in Jeremiah 29:11: "For I know the thoughts that I think toward you, says the Lord, thoughts of peace and not of evil, to give you a future and a hope." God, our loving and all-knowing Creator, constantly has you on His mind. 
He thinks about you with thoughts of peace, goodness, and a bright future. You are valued, cherished, and deeply loved by Him.
➋ Defy Doubt, Conquer Fear: Break Free!
Sometimes, doubt and fear can hold us back from experiencing the fullness of God's blessings. 
They try to convince us that we are unworthy, incapable, or destined to fail. But let me tell you, those are lies! It's time to break free from the chains of doubt and fear. 
Remember, it's not external circumstances that limit us; it's the negative thoughts and beliefs within us.
Inspiring Articles Worth Reading: 

How to Take Control of your Thoughts - The Biblical Way
Because God wants you to succeed in life, with His help, you can overcome the obstacles and step into the abundant life God has planned for you.
➌ Advance with God's Promises!
It's time to align our thoughts with God's promises. He wants us to live in victory, not defeat. 
Let go of the doubts that say you're not good enough or that success is out of reach. Instead, embrace the truth that God is a loving Father who delights in your company and desires to bless you abundantly. 
Renew Your Mind with God's Word
Trust in God's Faithfulness
Step Out in Faith
By doing so, you'll break free from the chains that hold you back and move forward with confidence, knowing that God's plans for your life are filled with purpose and fulfillment.
Don't let doubt and fear hold you captive any longer. Embrace God's promises, reject the lies, and step into the abundant life He has prepared for you. 
With God by your side, you can overcome any obstacle and achieve your true potential in Christ. Trust Him, rely on His guidance, and watch as He opens doors and leads you into a life of joy, purpose, and success.
So, put this message across every corner of your house – on the mirror, fridge, the door, affirming:
God Wants me to Succeed!
5. Embrace God's Promises for a Victorious Life
Remember that your redemption is found in Jesus Christ. He accomplished the work of restoration, reconciling us to the Father. 
There is no need to beg God for rescue repeatedly because Jesus has already accomplished it once and for all. 
Here are two essential reminders to keep in mind:
‣ The Power of Confession
Now is the time to boldly declare the promises of God in your life. Speak with authority and conviction, facing fear and doubt directly. Declare, "I am God's beloved child. He is my peace, health, my well-being, and my wholeness. I am moving forward. I am taking a step of faith."
As you speak words of faith and truth into your life, fear will bow, doubt will flee, and insecurities will vanish. Nothing will stand in your way as you press on. 
‣ The Embrace of God's Redemption
Don't be afraid of stumbling. For God will lift you up and propel you further and higher. He promises to put an end to your captivity, to restore what has been taken from you. Your fortunes will be restored, and the future you long for will become a reality.
Believe in the power of God's promises, for they are the keys that unlock your true potential. Trust that He is faithful to fulfill what He has spoken over your life. 
Embrace your identity as a child of God and walk in the freedom that Jesus has secured for you. You are not alone on this journey; the Holy Spirit is your guide and helper.
---
Final Thoughts: Enjoy The Journey!
Therefore, my dear friend, don't wait for a miracle while sitting idle. Take action! 
My life wouldn't have changed if I didn't step up and didn't tell my boss about my departure. As I made those decisions, doors opened. 
Declare: "Enough is enough. God desires the best for me, including perfect health and success. I am moving forward." Then trust in the Lord to end your captivity and bring about a breakthrough.
Keep moving forward, keep persevering, and keep your hope alive!
The God who redeemed you, who loves you, and has good plans for you is with you every step of the way. Trust in His faithfulness, and you will experience the abundant life He has prepared for you.
I trust this article has helped you uncover the keys to unlocking your true potential in Christ. 
May these insights empower and guide you as you journey toward a brighter future!