We each desire to walk with God and reap the benefits of our relationship with Him. Our walk with our Heavenly Father results in godly fruit in our lives and hearts, filled with joy and peace. The benefits and results of walking with God far outweigh a life of not walking with Him.
Psalm 38:4 tells us to taste and see that the Lord is good. When you taste the goodness of God, you wouldn't want to go back to a life without Him. It is because of the benefits and results we experience when we walk with God – now and forever. 
Walking with God means that you are blessed, and you have access to His great promises, which He has given in His Word. A life with God is one of righteous living because of the transformation that comes by His Spirit, who lives in us.
In a nutshell, what are the benefits and results of walking with God?
Before we go deeper into the topic, we will address the surface issues and dig further as we go along. 
Our relationship with God begins when we become born again and continues to eternity. God has given us eternal life, and this life is in His Son, Jesus Christ (1 John 5:11). We will be with God now and even after we leave this earth.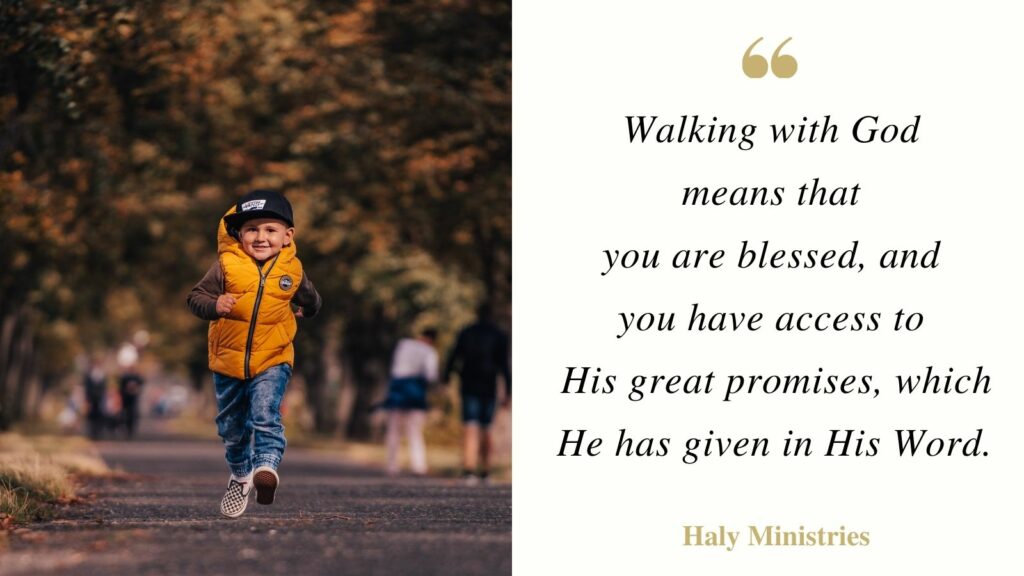 There are many benefits of being in a relationship with God. For example, He forgives your sins, heals you, redeems you from the pit of hell, crowns you with love and compassion, and satisfies your desires with good things (Psalm 103:1-5). The result is an abundant life that bears fruit for the Kingdom of God. 
How Do We Benefit From Walking with God?
No one can deny that our walk with God has many benefits in this lifetime and the next. To benefit, it means that there is an advantage that comes out of something. The benefits of God are available to those who have a relationship with Him. 
We will explore five benefits of walking with God and how they affect our lives. 
1. Eternal Life
One of the best benefits we have of walking with God is that we can be sure we have eternal life. That is the life that goes beyond the one we live on earth to the one we will live in Heaven with God. 
A classic Bible verse that reminds us of one of the best benefits of walking with God is John 3:16. It tells us that God loved the world so much that He sent Jesus to die for us so that we will not perish, but have eternal life. Our relationship with God is never-ending because we become part of His Kingdom when we get born again, and His Kingdom lasts forever. 
2. Divine Wisdom
Our human wisdom has no comparison with the wisdom of God. When we have a relationship with God, He puts His Spirit in us, who then gives us divine wisdom (Colossians 1:9). He enables us to live a life that pleases Him, and we bear fruit in the work that He has called us to do. 
Divine wisdom helps us increase our knowledge of God so that we can trust Him more each day. We need the understanding that comes from the Spirit of God because we sometimes face situations where we don't know what to do. 
When you don't know what to do, or you have confusion in your mind, ask God to fill you with the knowledge of His will. Only God can move you from confusion to clarity.
3. Access to God's Promises
By walking with God, we have access to His precious promises that we see in the Bible. The promises of God are "in Christ" (2 Corinthians 1:20). As a believer in Jesus Christ, you can ask that every promise given to you by God in His Word, be fulfilled in your life.
God wants His children to live the abundant life that Jesus came to give us (John 10:10). When we declare God's promises into our lives, they manifest and bless us tremendously, and the glory goes to God. 
4. Hearing God
Many people ask how one hears God, and this is because they don't understand how it happens. 
We hear God speak through His Holy Spirit, Who dwells in us. Before Jesus left the earth, He told His disciples that they had the ability to recognize the Holy Spirit, because He would be with them and in them (John 14:17). It means that every child of God can hear God speak to them. 
We long to hear God speak to us every day because we know that He has amazing things to tell us about our lives. 
Hearing the voice of God is comforting, and it reminds you that you have a loving Father who cares about you and will always be with you. 
5. An Ordered Life
When you walk with God, your life is organized and orderly because God orders your steps. Proverbs 20:24 says that the Lord directs our steps, or in other words, when you walk with God, you shall always go in the right direction. 
Those who walk with God know where they are going, and they don't lose their way in life. Isn't it great to know that the Lord is by your side, and if you are on the wrong path, He will redirect you? You may not always know where God is leading you, but you can be sure that you will never get lost. 
What Are the Results of Walking with God?
Walking with God certainly has good results in our lives, which others witness and celebrate. A result is a thing that is produced by something else; it is an outcome. 
As believers, we should manifest fruits that are obvious to others. The evidence of you having a relationship with God is – people see that God is in your life.
1. Bearing Fruit for the Kingdom of God
One of the results we witness of someone walking with God is bearing fruit for the Kingdom of God. They devote their lives to the service of God using their spiritual gifts. Anyone who walks with God desires to do things for Him because it brings a fulfillment that no other work does. 
Jesus told us in John 15:4 that no one can bear fruit unless they remain in Him. It is not possible to do the work of God, unless you are connected to Jesus Christ through a relationship with Him. 
You may realize it or not, but we are all connected with God. We are in Him before the foundation of the world. But it was all lost until Christ came to the earth and introduced the loving Father into the world. 
To live a life that pleases God and inspires others to know Him means that you know Him well and are intimate with Him.
2. Manifesting the Fruit of the Spirit
A person who walks with God manifests the fruits of the Spirit mentioned in Galatians 5:22-23, which includes love, joy, peace, longsuffering, kindness, goodness, faithfulness, gentleness, and self-control. The fruit of the Spirit is evident in our daily interactions with others. We can manifest the fruit regardless of the circumstances we face because it is a product of the Spirit of God living in us. 
You'll notice that there are people who are joyful, despite some things they are going through, and you wonder how they do it. It is possible because of the fruit of joy that comes from the Holy Spirit. If you find that you are struggling to manifest the different aspects of the fruit of the Spirit, you can pray and ask God to help you yield more to His Spirit.
3. A life of Obedience to God
Those who walk with God obey Him no matter what. Even when there was an easy way out, they would still stick to God's plan, His instructions. It is not easy to live a godly life in the world. But with God, it is possible. 
One can only obey God because they hear Him speak. There are many paths that we need to avoid. How can we do that? By following the instructions of God. 
A life of obedience to God is evident to others because they can see that you don't do what others in the world do. When you live a life of obedience to God, you make fewer mistakes, and you mostly make the right choices in life. 
Would you like to be the one who makes the right choices?
How Do I Strengthen My Walk with God?
Sometimes, in the course of life, your walk with God becomes weakened by the hardships, storms, trials, and difficult circumstances. Because of our human nature, we can easily be overwhelmed by troubles, especially, when they stay with us for long. If you want to revive your walk with God or strengthen it, there are ways you can do that. 
Start by pouring out your heart to God and asking Him to show you how you can strengthen your walk with Him (Psalm 62:8). Your relationship with God is very personal, and He knows what will work for you. You can tell Him where you lost your zeal for Him and that you are ready to have a more intimate relationship with Him. 
Take more time to read and meditate on God's Word, and allow Him to speak into your life. As you spend time reading your Bible, you will connect with God in a deeper way and get to know Him more. God's Word will show you His will, His ways, and what pleases or displeases Him. 
What Does It Take to Walk with God?
It's one thing to know how to strengthen your walk with God, it's another what it takes to get you there. 
Walking with God requires the following 3 things. 
1. Commitment
To walk with God daily, you must be committed. Commitment keeps you going even when you don't feel like praying or reading your Bible. 
2. Focus
It's easy to get distracted by the pleasures of the world and forget to nurture your walk with God. Having a focused mind will remind you that you need to set time aside to spend with God; it will keep you away from distractions.  
3. Yielding to the Holy Spirit
When we allow the Holy Spirit to transform our hearts, we can walk with God all the days of our lives. The Spirit of God helps us obey God and keep away from anything that hinders our relationship with Him. The journey of faith is not an easy one. But thank God, we have the Holy Spirit, Who is our Helper. 
How Did Enoch Walk with God?
Enoch was mentioned in the book of Genesis as a descendant of Adam through his son, Seth. The Bible says that Enoch walked with God for three hundred years before God took him away (Genesis 5:22-24).
There is not too much we read about Enoch in the Bible. But we can learn a thing or two from the verses that mention him. Enoch served God because we are told in Jude 14-15 that he prophesied against men who lived ungodly lives. He was using his prophetic gift. 
Enoch had fellowship with God (Genesis 5:24) and was faithful to Him. Faithfulness and Fellowship enabled him to walk with God for three hundred years without wavering. We can walk with God for life if we keep our eyes focused on Him. 
Hebrews 11:5 says that Enoch was known as a man who pleased God. His life was "sold out" to God, and he kept away from anything that could defile him. 
A man who pleases God is one who obeys His commands and who submits to His plans. 
Enoch lived among people who lived ungodly lives. But Enoch did not waver in His faith. He stayed faithful. The story of Enoch teaches us that we can also walk with God and benefit from this walk if we have fellowship with God daily. 
Enjoy Rabbi Schneider's message who shares simple but profound truths to help you grow in your relationship with God – Walking with God.
Final Thoughts
The benefits and results of walking with God – now and forever far outweigh the sacrifices we make today to spend more time with Him. Strengthen your walk with the Lord today, knowing that it is a relationship that goes on into eternity. 
Enoch continued with his walk with the Lord when he left the earth. This is the eternal nature of having a strong relationship with God. Take the necessary action steps today to strengthen your relationship with the Lord, and enjoy a sweet fellowship with Him, now and forever. 
You CAN WALK WITH GOD!
Have you found it helpful to know The Benefits and Results of Walking with God? What first step would you like to make? Share with us in the comments below.
Shalom & Blessings,
Haly
Latest Articles: