Are you going through tough times? Do you feel alone in this journey called life? Well, a lot of things are happening around you every day. Regardless of your background or status, you face different challenges. It can be overwhelming.
But guess what? You're not the only one going through hard times. The Bible tells us that people all over the world are also facing trials, just like you. James 1:2-3 reminds us to find joy in these trials, saying, 'Consider it pure joy, my brothers and sisters, whenever you face trials of many kinds because you know that the testing of your faith produces perseverance.' 
This doesn't take away your challenges, but it helps you realize that you're not alone. Some people can relate to what you're going through.
I can understand and relate to your experiences. Amidst countless dark valleys, I stood strong and trusted in God, even when faced with unbearable situations. Looking back, I often wonder how I managed to endure. But through it all, I discovered the incredible strength that lies within us when we hold onto our faith. 
Let me share with you the lessons I learned along the way, the steps that helped me navigate those challenging times, and how you can find the courage to overcome any obstacle that comes your way.
4 Lessons That Helped Me Through Dark Valleys:
1. Dark Valleys Will Be There 
Life is full of ups and downs, and it's important to acknowledge that dark valleys will be a part of our journey. 
However, in the midst of our trials, we can find comfort in the reassuring words of Psalm 34:17-18, which reminds us that 'The righteous cry out, and the Lord hears them; he delivers them from all their troubles. The Lord is close to the brokenhearted and saves those who are crushed in spirit.' 
These verses offer reassurance that God is attentive to your cries and provides deliverance from your troubles. When you face challenging times, you can take comfort in knowing that God is near, offering His love, support, and healing. 
He sees your brokenness and lifts us up, granting you strength and restoration. So, as you encounter the dark valleys in life, remember the profound truth of Psalm 34:17-18 and hold fast to the unwavering hope that God's presence brings.
‣ Acknowledge the Reality
"God never said that the journey would be easy, but He did say that the arrival would be worthwhile." – Max Lucado
It's important to accept that difficult times are a part of everyone's life, and you are not alone in facing them. When you recognize that dark valleys exist, it helps you get ready inside to face and overcome them.
The Story Of Job
Job's story is a powerful reminder that even the most faithful and righteous individuals can experience immense trials. In his suffering, Job remained steadfast in his faith and trust in God. Despite the challenges he faced, his strong faith gave him comfort and made him strong.
As we reflect on Job's story, we are reminded of God's faithfulness and His ability to restore what was lost. Just as God restored Job's fortunes and blessed him abundantly after his season of testing, He can also bring restoration and blessings to your life. 
Job 42:10 states, 'After Job had prayed for his friends, the Lord restored his fortunes and gave him twice as much as he had before.' 
This verse is a testament to God's redeeming power and His ability to turn our trials into triumphs. 
Inspiring Articles Worth Reading: 
‣  Psalm 23 – 7 Benefits and Why it is Important in This Season
‣  Receive God's Promise of Peace: Psalm 23
‣  Receive God's Promise of Refreshing: Psalm 23  
‣  God Shall Restore You: Psalm 23 
‣  You shall Lack Nothing: Psalm 23
‣  The Promise of God's Presence: The Lord's my Shepherd Psalm 23:1
‣ No shortcuts in life
Life doesn't always provide shortcuts, especially for those who have faith in Jesus Christ. As believers, we have a journey that God planned for us even before we were born. It means that we will encounter challenges along the way.
‣ Face the Challenge
While it's tempting to sit down and give in to fear when faced with a dark valley, it's important to rise above it. 
In times of adversity, we must remember that God is always with us, providing strength and courage. As we encounter obstacles and uncertainties, we can find comfort in the words of Joshua 1:9, which states,
'Have I not commanded you? Be strong and courageous. Do not be afraid; do not be discouraged, for the Lord your God will be with you wherever you go.' 
This awesome verse reminds us that God is always with us and encourages us to be bold and resilient. It encourages us to trust in His promises and to face our challenges with unwavering faith. 
When we rely on God's strength and refuse to give in to fear, we can overcome even the darkest valleys and emerge victorious.
‣ Learning from Adversity
Dark valleys offer opportunities for growth and learning. They teach us valuable lessons about resilience, perseverance, and the importance of relying on God's strength. Welcome these experiences as opportunities to become stronger and wiser.
By understanding and accepting those dark valleys are a part of life, you can face them with strength, hope, and a willingness to learn and grow. 
Have you ever faced a challenging period in your life? How did you feel during those dark valleys? Share your experiences and let us know how you recognized and overcame those hurdles.
2. God Is Always with You, Even in Dark Valleys
Going through challenging times can make it difficult to comprehend how God works. It's natural to question why things are happening the way they are, and you may even feel like God has left you all alone or isn't paying attention to your prayers. But I want you to know that those feelings are not based on the truth.
‣ God's Mysterious Ways
It can be hard to understand what God has planned for us, especially when things are difficult.
But just because we can't see the bigger picture doesn't mean God has abandoned us. He has a unique plan for your life, and His timing is different from yours. So trust that He is at work, even when it's not evident to you.
‣ God's Presence
"Faith means believing in advance what will only make sense in reverse." – Philip Yancey
You are never alone, my friend, even in the midst of your darkest valleys. God's presence is constant and unwavering, regardless of how you may feel. He is right there beside you, walking with you through every step of your journey. Even when it seems like He is distant or silent, He is still there, watching over you and listening to your prayers.
Isaiah 41:13 - "For I am the Lord your God who takes hold of your right hand and says to you, Do not fear; I will help you."
What strategies or practices do you rely on to remember that God is always with you, even in the darkest of valleys?
‣ Trust in His Faithfulness
It's important to remember that God's faithfulness doesn't depend on your circumstances or emotions. Even during trials, He remains steadfast. His love for you is unchanging, and He will never abandon you. So hold on to that truth and trust in His unfailing presence and guidance.
My friend, God is always with you, even in the darkest of valleys. Although it may be challenging to understand His ways, His timing is perfect, and His love for you is constant. So don't let doubt or discouragement overshadow the truth. Rely on God, find comfort in Him, and trust that God is with you, for He is FATHFUL!
3. Valleys Are Like Shadows 
When you face challenges in life, it's easy to feel overwhelmed, as if a dark shadow is looming over you.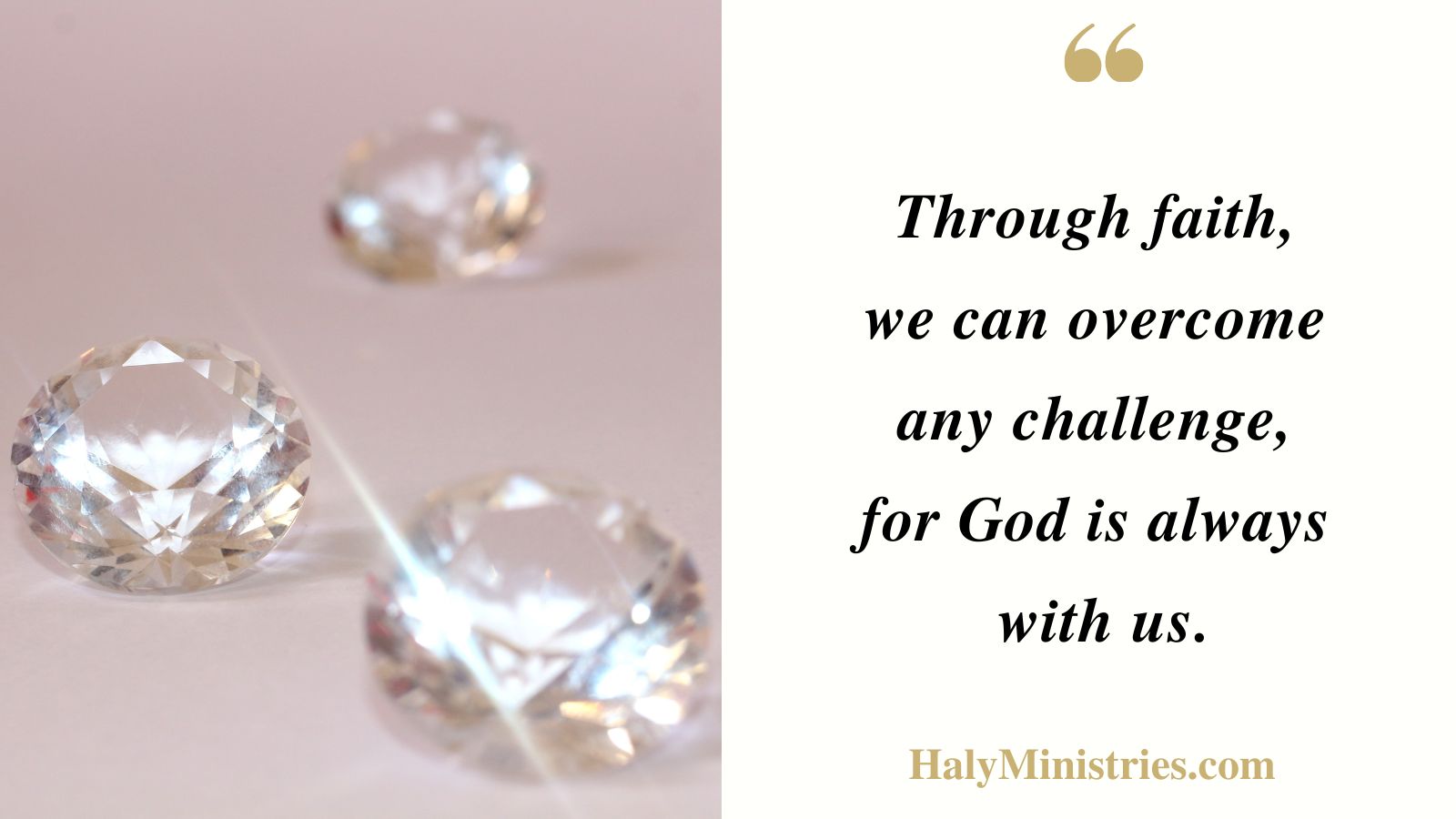 But here's the thing to remember: it's just a shadow. Jesus has already paid the price for your victory on the Cross. You don't have to struggle alone anymore. It's time to accept and experience the triumph that Jesus has already secured for you.
Instead of focusing on the difficult times you're going through, try shifting your attention to Jesus and how much He loves you. Don't let fear control you or stop you from taking action. Instead, firmly believe that Jesus is right there with you, walking beside you even in the darkest moments. He will never leave your side.
4. Reject Fear and Find Peace
Keep in mind that your faith journey won't always be smooth sailing. There will be moments when doubt creeps in, and you may face tough challenges. But in those moments, hold on tightly to Jesus. Keep moving forward, even through the valleys. Trust that in due time, you will witness the remarkable blessings that come from your unwavering faith.
In this season, God's perfect love will cast away your fears. To truly understand this love, fix your focus on Jesus.
Don't let your circumstances pull you away from Christ. He, as the Good Shepherd, is walking with you through your darkest valley. Make it a habit to practice His presence, and trust that Jesus will never leave or abandon you.
Although easier said than done, we all have to start somewhere. Our faith journey won't be flawless. There will be moments when our faith is tested, and times when we feel discouraged and want to give up. Be kind to yourself during these times and hold on to Jesus, even when it doesn't feel like He's there.
Having Jesus in our lives doesn't eliminate evil in the world. But it removes the fear of evil. Live knowing that His presence brings peace and assurance.
Overcoming Dark Valleys: Four Essential Steps to Navigate Tough Times:
Step 1: Recognize Your Feelings 
It's okay to feel sad, scared, or frustrated during tough times. Take a moment to acknowledge your emotions and understand that it's normal to experience them.
Step 2: Reach Out for Support 
Don't go through difficult times alone. Talk to someone you trust, like a family member, friend, or pastor. Sharing your feelings can help lighten the load and provide comfort.
Step 3: Focus on the Positive 
Even in dark valleys, there are rays of light. Look for the good things in your life, such as hobbies, favorite activities, or moments that make you smile. Keeping a positive mindset can help you stay hopeful.
Step 4: Take Small Steps Forward 
Facing challenges can be overwhelming, but remember that progress is made one step at a time. Celebrate each small achievement along the way to keep yourself motivated.
Remember, you are stronger than you think. These steps will guide you through tough times and make you even stronger.
---
God is always with you, even in the darkest of valleys. Although it may be challenging to understand His ways, His timing is perfect, and His love for you is constant. So don't let doubt or discouragement overshadow the truth. Lean on Him, seek His comfort, and trust that He is by your side, guiding you through every step of your journey.
5 Bible Verses to Meditate on: Walking Through Life's Darkest Shadows
Bible Verses About Walking Through Life's Darkest Shadows:

1. "Even though I walk through the darkest valley, I will fear no evil, for you are with me; your rod and your staff, they comfort me." - Psalm 23:4

2. "The Lord is my light and my salvation—whom shall I fear? The Lord is the stronghold of my life—of whom shall I be afraid?" - Psalm 27:1

3. "So do not fear, for I am with you; do not be dismayed, for I am your God. I will strengthen you and help you; I will uphold you with my righteous right hand." - Isaiah 41:10

4. "For God has not given us a spirit of fear, but of power and of love and of a sound mind." - 2 Timothy 1:7

5. "For I am convinced that neither death nor life, neither angels nor demons, neither the present nor the future, nor any powers, neither height nor depth, nor anything else in all creation, will be able to separate us from the love of God that is in Christ Jesus our Lord." - Romans 8:38-39
Join the conversation and share your challenges, thoughts, and strategies for overcoming tough times. Your experiences and insights can inspire and support others facing similar struggles. Together, we can overcome these dark valleys and grow stronger. Share your voice in the comments below and be part of this supportive journey. God bless you!