It's easy to get disillusioned when you have prayed for a job for a long time and still wake up unemployed. 
You are left wondering why God is not answering your prayer for a job. You may be asking, "Is God hearing me? Has He chosen to ignore me? Does He not care?" The list of questions is endless, and at the end of the day, you walk away from your prayer closet with no answer. 
You do not see the answer for a job for a few reasons. Your wishful job does not align with the will of God. It could be your wrong motives that stop you from getting the job you want. Or you need to give God time to prepare things before you get that job.
Before we go into details, let us start with some nuggets of wisdom that can shed light on – why we don't always see the answers to our prayers.  
How Should We View Our Unanswered Prayers?
There are many reasons that would explain why we don't see answers to our prayers. We can find the answers in the Bible. When we meditate upon the verses that talk about prayer, we can get some answers that will set us free. 
One thing we can be sure of is God hears our prayers. He doesn't ignore them. 1 John 5:14 says that the confidence we have in God is that if we ask anything according to His will, He hears us. 
The key phrase is "if we ask according to His will." This is the first thing you need to check when you pray for a job. Is your prayer in accordance with God's will?
Do Not Lose Your Heart
Rather than ask, "why doesn't God answer my prayer for a job?" a better question would be, "what is God's answer to my prayer for a job?" God answers all prayers, and sometimes we don't recognize His answers because we are not paying attention to them. You can easily miss God's answer to your prayer when you are focused on how you want Him to answer you. 
Something we usually overlook in prayer is the waiting period. Some prayers call for waiting for God's appointed time to answer your prayers. Maybe your prayer for a job requires you to wait on God so that He can bring it to pass at the right time. 
In the meantime, don't give up on praying because your answer is on the way. In Luke 18:1, Jesus told us that we always ought to pray without losing heart. 
It's okay to ask God why you are not seeing an answer for your prayer for a job. This is not a lack of faith but asking God to show you if there is anything standing in the way of your answer. Once He shows you, you can then know whether you need to change your prayer or continue to hold on in faith. 
Why Doesn't God Answer My Prayer for a Job?
If you don't see an answer to your prayer for a job, check your prayer against the following four things and see if they shed some light. 
1. God's Will
Is your prayer in line with God's will? You may be praying for a job that is not in line with God's will. This doesn't mean there is anything wrong with the job you are praying for, however, maybe it will only serve your desires and not the purposes of God over your life. 
Maybe God wants you to start your own business? I have told many times that God wants to raise Christian entrepreneurs or successful investors. Would you like to be one of them? 
2. The Appointed Time
You may be wondering why God would make you wait for His appointed time when you need the job now, not tomorrow. God has to work things out in your favor, and this may take some time. 
By the time He gives you the job, He will have worked in your heart to heal, grow and mature you. He will give you a job that requires a preparation time before you are ready for it. He wants to bless you with the very best as you patiently wait for Him. 
3. Your Motives
We sometimes don't see answers to our prayers for a job because we ask with the wrong motives (James 4:3). Some wrong motives could be wanting a particular job because of the perks it offers, the prestige we will have working a certain job, etc. 
You can pray and ask God to show you if you are praying with the right or wrong motive. 
Jim Rohn said these words,
"The only way it gets better for you is when YOU get better. Better is not something you wish, it's something you become." 

– Jim Rohn
God wants you to BECOME! 
4. We do not Seek
Also, there is another reason and probably the most important one. We wait upon God to give us a job, but we do not do anything about it. 
Jesus told us that when we seek, we shall find. We need to make some phone calls, send our CVs, tell our friends we are looking for a job. Whatever you can do from your side, do it. 
What I have found out – God usually brings a completely different answer to our prayers. It's always better, exceeding our imaginations and desires.
Do your part, but trust God's part!
Find Out What God's Answer for Your Job Situation
God has answered your prayer for a job. Because you haven't seen your job manifest, it does not mean that He has not. The question would be, what is His answer? 
When we pray, God gives us His answer as we meditate on His Word. 
If He wants us to wait, He will say so. 
If there is something standing in the way, He will alert us. 
If we are praying the wrong thing, He will show us. 
We usually find it hard to see God's answers when we are desperate for a job because we just want Him to give us a job. 
What Do You Do When Your Prayers Aren't Answered?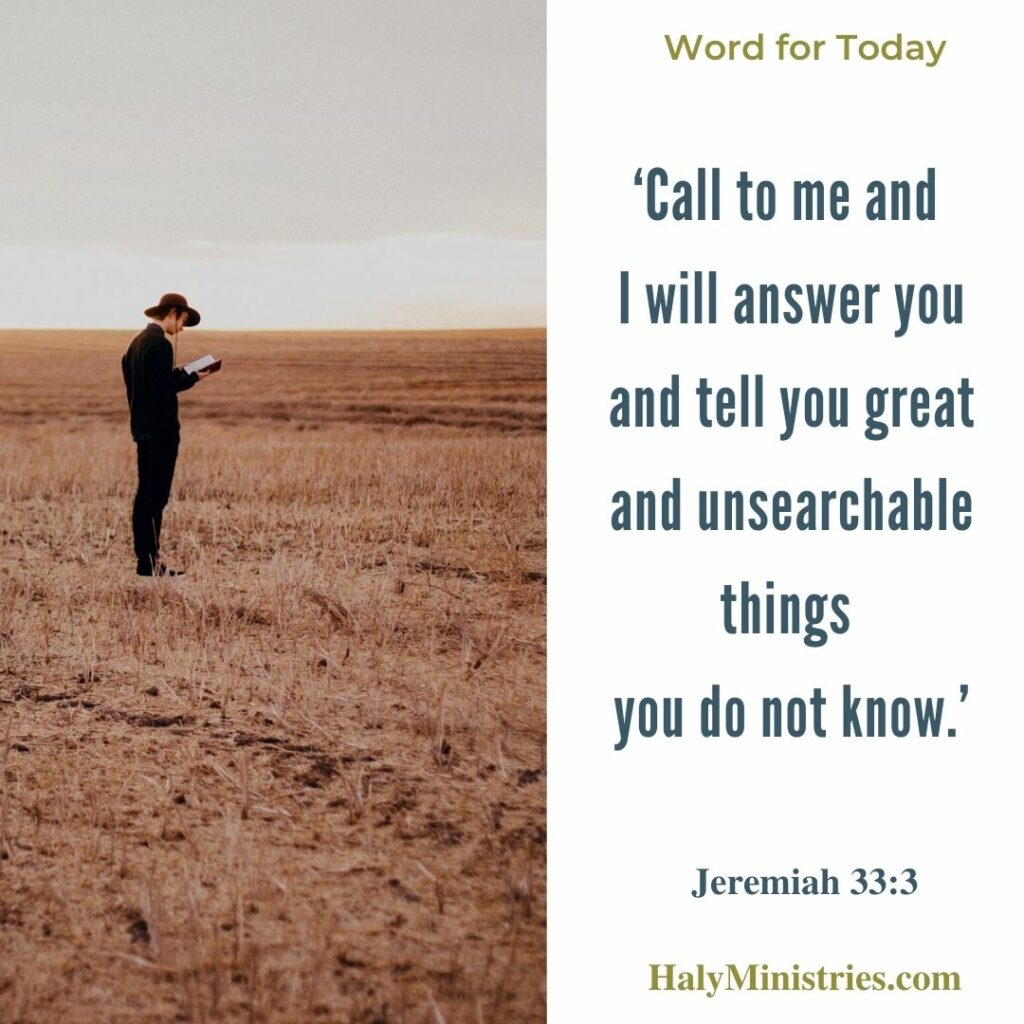 If you feel that your prayer for a job is not being answered – ask God. There is no other way you will know why you are not seeing an answer. 
God says in Jeremiah 33:3 that when you call to Him, He will answer you and show you great and unsearchable things you don't know. Armed with the answer, you will know how to respond so that you can see your prayer bear fruit.   
When the Angel Gabriel told Mary that she would conceive and have a son Jesus, she asked him how it would happen. She had not been intimate with a man and did not understand how the Lord's word would come to pass. Mary didn't ask because she lacked faith. What she lacked was knowledge (Luke 1:30-35). 
If you don't know what is happening, ask God. Don't make assumptions because you may be wrong.
Have You Made a Job an Idol?
Unfortunately, many job seekers have made a job an idol. They want nothing else but a job. You can idolize a job, especially where you have been jobless for a long time, and nothing else seems to matter. Something becomes an idol when it takes over your heart, and you will accept nothing less. 
God says in Isaiah 42:8 that He will not yield His glory to another or His praise to idols. It means that He will not answer a prayer you have idolized. If He did, the glory would not go to Him but to your idol. 
If you want a job more than you want God, repent and yield to God's desire for you in this season. For His ways are perfect. 
How Do You Know a Job Opportunity is from God?
You may have prayed, and then a certain job opportunity opened up, and you are wondering if it is from God. At this point, prayer will be your saving grace. 
Pray and ask God for wisdom to determine if the job opportunity is from Him (James 1:5). Armed with divine wisdom, you can tell whether to take it up or let it go. The last thing you want is to be in a job that is not God's will for you. 
God will help you to make the right decision and show you the path to walk on. When we are moving in the right direction, God always gives us His peace that surpasses all understanding.
If you have peace regarding a particular opportunity, it may be from God, but find out from Him first. 
Final Thoughts
Our lives are unique, and the reasons why we don't get answers to our prayers for a job are varied. 
Only God can enlighten you regarding your situation and point you in the right direction. Sometimes, you are on the right track with your prayer, and you only need to be patient and wait for God's timing. 
Never give up hope! One day, you will see your job manifest and your heart will be full of joy. God always keeps His word – TRUST HIM!
This teaching of Steven Furtick is very clear and inspirational. God already knows what you need, you just need to ask Him what to do. Hope you will enjoy it.
Your opportunity SHALL COME, my friend! 
Have you prayed for a job and have not received an answer yet? Is there anything we can pray for? Please share with us in a comment below.
Shalom & Blessings,
Haly
Latest Articles: