Life is full of ups and downs. We all face times of joy and times of sorrow. But we can take comfort in the fact that God promises to be with us through it all. No matter what season of life we're in, we can experience the profound comfort that only God provides if we draw near to Him.
God promises comfort in every season of life, if we draw near to Him. When we regularly spend time in Scripture, prayer, worship, and Christian community – God fills our hearts with supernatural peace, strength, and encouragement. Even in our darkest valleys, God's presence comforts and upholds us.
The Promise of God's Comfort 
Sadly, in this life, we will walk through valleys shadowed by death and encounter storms that threaten to overwhelm us. But we do not have to face hardships alone.
God's word assures us that He is our refuge and strength, an ever-present help in times of need (Psalm 46:1). When we feel weary and burdened, we can come to Him, and He will give us rest (Matthew 11:28-30). The Lord is close to the brokenhearted and saves those who are crushed in spirit (Psalm 34:18). He keeps all our tears in a bottle and collects them as precious treasures (Psalm 56:8). 
Though weeping may last for a night, joy comes in the morning light of God's comfort (Psalm 30:5). He promises to turn our wailing into dancing and clothe us with joy once more (Psalm 30:11). 
We can rely fully on God's promise to comfort us. He will never leave or forsake us but will lift us up with His righteous right hand.
How Can You Experience God's Comfort?
1. Drawing Near to God Through His Word
Set aside a regular quiet time to read and reflect on Scripture. Even just 15-20 minutes a day in God's word can make a big difference in experiencing His comfort. Find a peaceful spot without distractions and open your Bible. Ask God to speak to you and guide you to verses that will uplift and encourage you that day. 
4 Essential Steps to Finding Comfort in Meditating on Bible Verses
One helpful way to draw near to God is to meditate on verses from the Bible. Here are some specific tips to make the most of this practice:
Select Meaningful Verses: Choose Bible verses that resonate with your current situation or struggles. Look for verses that offer comfort, hope, and guidance. For example, consider passages that speak about God's presence, His promises, and His love for you.
Reflect and Personalise: When reading a comforting verse, take time to reflect deeply on it. Slowly read the verse aloud 2-3 times, thinking about how it applies to your life. Then personalise it by inserting your name or situation. For example, pray Psalm 23:4 as, "Lord, even though I walk through this grief, I will fear no evil, for you are with me, [name]." Putting yourself in the verse helps you feel God's comfort more intimately. Personalising scripture enables it to penetrate your heart on a deeper level.
Memorize and Recite: Focus on memorizing key phrases or the entire verse. Write it on note cards, save it as a phone wallpaper, or repeat it aloud. Recite the verse daily or whenever you need encouragement. This practice strengthens your connection with God's Word and provides a quick source of comfort in challenging moments.
Apply and Pray: After personalising a comforting verse, consider practical ways to apply it. Live out its message through your daily actions and choices. Also, use verses to fuel your prayers – pouring out your heart to God based on the verse's meaning. Practically applying Scripture and praying through it cements God's truth deep in our lives.
By following these four main tips, you can create a simple yet effective routine for meditating on Bible verses. This practice allows you to draw closer to God, find comfort in His promises, and navigate difficult times with a sense of peace and assurance.
2. Pouring Out Your Heart in Honest Prayer
God invites us to come to Him and fully express our deepest feelings and needs. There is no emotion we need to hide from our compassionate Father. Pour out your heart to God in raw, honest prayer, trusting that He cares and hears you.
Tell God exactly how you feel – your fears, anxieties, pains, disappointments, and heartbreaks. Pour out your tears to Him. Confess your weaknesses and ask for His strength. Admit when your faith feels small. Let it all out in God's presence. As Psalm 62:8 says, "Trust in Him at all times, you people; Pour out your hearts before Him; God is our refuge."
Ask God to fill you with His comfort, peace and healing. Pray for the supernatural comfort found only in His Spirit to surround you and lift you up. Cry out to Him to turn your mourning into joy. God promises in Matthew 7:7, "Ask and it will be given to you." Bring your full self to God in prayer. His comfort awaits those who earnestly seek Him.
3. Worshipping and Giving Thanks Amidst Pain
Even in the midst of sorrow and pain, we can still worship God for who He is and thank Him for His faithfulness. Lifting our eyes to the Lord through worship focuses us on His majesty, power and goodness rather than our temporary troubles.
Sing praise songs and hymns of adoration to God even when you don't feel like it. Recite Psalms of praise like Psalms 100 and 150. Listen to uplifting Christian worship music and allow your spirit to soar in gratitude to God. As Ephesians 5:19-20 says, "Speak to one another with psalms, hymns and spiritual songs. Sing and make music in your heart to the Lord, always giving thanks to God the Father for everything."
Thank God specifically for His promises to you, His continued presence with you, and examples of His goodness you can remember. Begin keeping a gratitude journal where you write down things to praise God for each day. Worship shifts our perspective away from our problems to the majesty of our Savior. As you worship and give thanks, God's comfort washes over you!
Recommended Articles for Inspiration: 
‣  From Pebbles to Diamonds: God's Promise of Lasting Joy
‣  Walking Through Life's Darkest Shadows: Psalm 23
‣  Trusting God Through Setbacks | Haly Inspiration
‣  God Shall Restore You: Psalm 23
‣  You shall Lack Nothing: Psalm 23
‣  God is Doing Something Brand New
4. Trusting in God's Sovereignty
When life feels uncertain and chaotic, we can anchor our souls in the comfort of God's sovereignty. He sits enthroned as the eternal King, with all authority over heaven and earth in His hands (Matthew 28:18). Nothing takes Him by surprise or happens outside of His divine will.
You may not understand all God is doing behind the scenes, but you can trust His ways are perfect. As Isaiah 55:8-9 reminds us, "For my thoughts are not your thoughts, neither are your ways my ways, declares the Lord. For as the heavens are higher than the earth, so are my ways higher than your ways and my thoughts than your thoughts."
Entrust your situations fully to God's capable hands. Release control to Him in prayer. Let go of the need to know all the answers. Instead, ask for renewed faith to believe that God is working all things for your long-term good (Romans 8:28). Recall the mighty and miraculous ways He has moved on your behalf in the past. Praise Him that nothing can stop His ultimate plans for you.
As Psalm 33:11 declares, "But the plans of the Lord stand firm forever, the purposes of his heart through all generations." Take comfort in God's sovereignty today.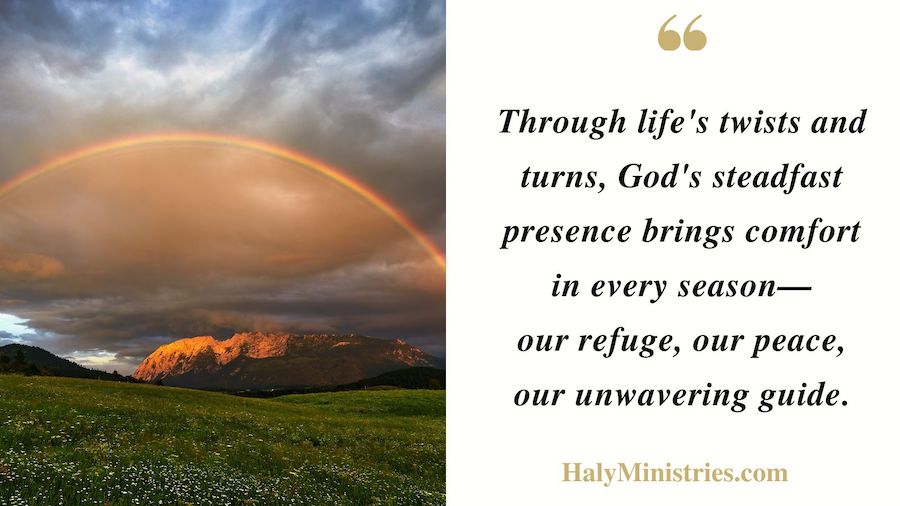 5. Serving Others for Comfort
Getting outside of our sorrow by serving and caring for others takes the focus off ourselves. God designed us to be part of a community and to use our gifts to meet each other's needs.
Look for small ways you can help and encourage those around you. This could involve visiting someone who is sick or homebound, providing meals for a family going through hard times, sending cards to lift someone's spirits, or volunteering with ministries that assist people in need. (Galatians 5:13)
Ask God to open your eyes to see practical ways you can be His hands and feet to those around you. Helping others often has the wonderful side benefit of comforting and uplifting us as well.
When we give of ourselves in service to others, our pain and focus on our own troubles grows smaller. Reaching out beyond our suffering expands our hearts with God's love. Serving others brings joy and comfort that can come from no other source. (Acts 20:35)
6. Seeking Additional Support if Needed
While God promises to comfort us in our pain, sometimes we need extra support and wise counsel to walk through deep wounds or mental health challenges. 
Consider reaching out to a pastor or Christian counsellor who can provide guidance, prayer, and biblical perspective. Attend a grief support group at your church to process your emotions with others experiencing similar losses. 
Invest in your emotional and physical health through counselling, rest, exercise, and healthy social connection. Asking for help and taking steps toward healing can pave the way for receiving God's comfort. The Lord often provides comfort through the practical love and support of others.
Uplifting Bible Verses for Comfort during Difficult Times
"The Lord is close to the brokenhearted and saves those who are crushed in spirit." – Psalm 34:18
"When you pass through the waters, I will be with you; and when you pass through the rivers, they will not sweep over you. When you walk through the fire, you will not be burned; the flames will not set you ablaze." – Isaiah 43:2 
"God is our refuge and strength, an ever-present help in trouble. Therefore we will not fear." – Psalm 46:1-2
"Peace I leave with you; my peace I give you. I do not give to you as the world gives. Do not let your hearts be troubled and do not be afraid." – John 14:27
"Come to me, all you who are weary and burdened, and I will give you rest. Take my yoke upon you and learn from me, for I am gentle and humble in heart, and you will find rest for your souls." – Matthew 11:28-30
During times of difficulty, turning to these verses can provide a sense of peace and strength, reminding us that we are not alone and that God's comfort is ever-present.
Closing Message: Taking the First Steps Toward God's Comfort
No matter what storms of life come our way, God promises to be our comforter, our shelter in the storm. His word reminds us that His compassion and care never fail. They are new every single morning!
God's arms are always open wide to those who draw close to Him. If you are facing a difficult season and need comfort, take time to reflect on where you most need God's peace and hope. Is there a relationship that needs mending, a loss you are grieving, or a trial that feels too heavy to bear alone? Take those needs to the Lord. 
As you take simple, practical steps of faith through PRAYER, SCRIPTURE, WORSHIP, you'll experience more and more of the supernatural comfort only God provides. He will lift you up and exalt your spirit once again. Trust Him to bring you dancing and laughter after this time of tears.
May the God of all comfort fill your heart with His love and joy today. Draw near to Him, dear friend, and He will draw near to you. Rest in the safety of His presence and the hope of His promises. You are not alone!