This is a prophetic Word for November 2020 – From Being Exhausted to Being Exhorted
Is Waiting for Your Prophetic Promises Exhaust You? 
Before giving the word, I asked the Lord to speak through dreams, visions, or signs. There are many different ways of how God speaks to us. Why did I come up with this title – From Being Exhausted to Being Exhorted?
A few days ago, Haly Ministries had decided to hire new writers, who were Christians. That was a trial. So, we sent out our requirements. The task was to write a short article, explaining what prophetic means. We asked to concentrate on three words: edification, exhortation, comfort. 
The work came back to us. At the beginning of one article, I noticed that instead of "exhort", a writer wrote "exhaust". I thought that was one small mistake, but throughout the whole article the writer was saying again and again "exhaust".
As you know, the words exhort and exhaust are not the same words. They carry different meanings. 
"Exhaust" means – make someone very tired, and "exhort" means – strongly encourage or urge (someone) to do something, or if you want a very close translation, in Greek "exhort" is "a calling near, a calling for; appeal."
They are very different words. Before reaching the writer, I decided to check what we wrote in the requirements. And what do you think? It was "exhaust". I burst out laughing. I thought how difficult it was for the writer to write and describe what a prophetic word should not be.
Then that still small voice spoke, "He is right", the Lord said, "Waiting for My Prophetic Promises Can Exhaust My People. Look around, they are feeling exhausted now. They are exhausted waiting for the Promises. I AM their Promise. And if I AM said it, then I AM will bring it to pass."
God is always right. Are you feeling exhausted, tired of waiting? Maybe even now, your mind is all fuzzy, or there are so many thoughts in your mind that you do not notice what is happening around you. You're just there in your thoughts – thinking, thinking, thinking. 
Or maybe you're so super stressed that you just try to ignore things around you. Whatever it is which gives you exhaustion is not right and not what the Lord has for you. 
God did Not Promise an Easy Way
Something that few people realize about the prophetic word is that it rarely offers the easy way. One who follows it will rarely have the chance to simply relax and let things happen. It is this that may make some people scared of following the prophetic word of God. 
Rarely does following the prophetic word lead you to a simple answer and many times you may feel exhausted by the idea and the work that is required to follow it. 
The Lord Your Helper is on Your Way
God has not promise an easy way, but He has promised help on the way. 
The journey might be difficult, but the Lord has not left you there on your own. He has promised to watch over you and to help you. 
In our minds, we try to figure it out. It does not work like this. How God does it, is different. Thank God it is. Because His ways and His plans for our lives, for your life, are much better.
I Have Exhausted Stories Too
I Have Exhausted Stories too. I had tried to figure out things in my life. I know how difficult waiting could be. I was in situations when it seemed nothing was going to work. But during these times of uncertainty, fear, and despair, the Lord always comforted me as only loving Father could do. 
Other times, He had to stop me asking, "Do you trust Me?" That was enough not looking for help from the right or the left, but trusting that the Lord knew my best. 
He knows the future. He was already in the future. Just think about it – God was in the future. If He was in your future, then everything is going to be alright. 
Speak Life
The Lord teaches us to be quick to hear, but slow to speak. We need to check what our words are like. Are they full of life, faith, trust? Or are they the words of doubt, fear, anxiety?
We are still in the year of the Hebrew letter "Pey". We are in the Jewish year of 5781. Number 80 is the letter "Pey" and it means mouth. 
Your tongue has power. You may not realize that but your words are so powerful. They have got the power to give life, or kill. Hey, we don't want that last word, do we? In Proverbs 18:21 it says, " those who like to talk will reap the consequences."
When we talk, we must continue speaking life during our exhausting days, given up days, fearful days, anxious days, sick days, no money days do not plant bad seeds. The seed is the word. Let us continue planting good words, the words of life into our lives, our families, our nations. 
Do Not Fear Men
The Lord also is telling us not to fear man. No human wisdom nor understanding nor man's plan can stand against God. We should not fear what man can or can't do. Even when we are facing difficulties, we should choose to praise God, for God knows how to deliver His people. He knows how to deliver you, your family from exhausting times. 
Just tell me, is there someone who can challenge God? In the past, there were many challengers who tried to fight against Him. The consequence was severe. 
Do you remember Pharaoh? He tried to stand against God Almighty. He thought he was going to stop God to fulfil the promises concerning Israel. What's happened? The consequence of his disobedience was severe. 
It's not that God wanted that punishment, it's the choice of Pharaoh which led him, his family, and his nation into default. He did not praise God who gave him riches, instead, he praised himself and his power. He thought he had power. How wrong he was.
Fear God and His Name
I like J.C Ryle's quote He said, 
"Be of good courage. Care not for what the world says or thinks: you will not be with the world always. 
Can man save your soul? No. Will man be your judge in the great and dreadful day of account? No. Can man give you a good conscience in life, a good hope in death, a good answer in the morning of resurrection? No! no! no! Man can do nothing of the sort. 
Then "fear not the reproach of men, neither be afraid of their revilings: for the moth shall eat them up like a garment, and the worm shall eat them like wool" (Isa. 51:7,8). Call to your mind the saying of good Colonel Gardiner: "I fear God, and therefore I have none else to fear." Go and be like him."
Who was that Colonel Gardiner? He was Scottish, joined the army when he was 14. He was known as a rake in his youth or had immoral conduct. But he had a devoted mother who continued praying for him Then…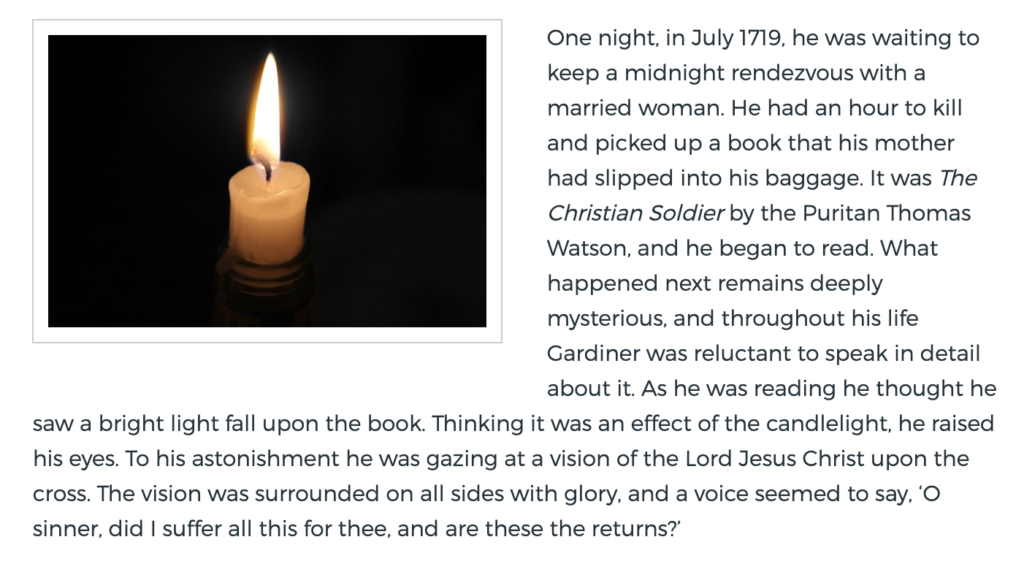 He was 31 years old when it happened. His life was changed. Two months later after the visions, he received that reassurance that he was accepted by God because of Jesus. He was a very known man at that time, known among soldiers, known among higher societies, included the Prince and Princess of Wales. 
He boldly preached Christ whenever he went. Some thought he had gone mad, but it did not stop him. Why?
He had his mother who had faith and who had a promise. Maybe she was exhausted waiting for a breakthrough, but she did not give up on her son and continued praying. Her words, her prayers changed the life of her son and the lives of many others. That small seed – her faith and prayer produced a harvest. 
Colonel Gardiner said, "I fear God, and therefore I have none else to fear." God has promised a reward to those who fear Him, or who have reverence for God. What are those rewards? They are provision, health, protection, honor, long life, security, wealth. 
Do not leave a place for exhaustion. Cast exhaustion, fear out of your life. And live believing and trusting that the Promises and God's rewards for your life are already fulfilled in Christ! 
From the month of November, you are moving from being exhausted to being exhorted. Come to God and make an urgent appeal, call for His help, and He will send edification, exhortation, comfort your way. Amen.
Latest Articles: