We often find ourselves surrounded by life's battles, struggling to overcome challenges and obstacles. In those moments of fear and uncertainty, the Bible reminds us of a profound truth: "The Lord will fight for you; you need only to be still." (Exodus 14:14) This verse, spoken to the Israelites as they faced the daunting Red Sea before them and the pursuing Egyptian army behind them, holds a timeless message for us today.
1. God's Deliverance May Not Look Like We Expect
While God often miraculously intervenes, His deliverance doesn't always come in the way we anticipate. Amy Carmichael, a missionary to India, wrote: 
"We shall not always see when and how God delivers, but we shall know that He has delivered."  – Amy Carmichael
Rather than immediate relief, God's help may look like strength to endure, hope for the future, or the sustenance of His daily mercies. Yet we can be assured He is working all things for good.
2. The Call to Stillness: Surrendering Our Struggles
Life can often feel like a whirlwind of chaos, leaving us feeling overwhelmed and powerless. The verse in Exodus 14:14 teaches us a vital lesson—God calls us to be still and yield our struggles to Him. It doesn't mean we become passive or apathetic. Rather, it's an invitation to relinquish our need for control and trust in His divine plan.
The Lord gently whispers in Exodus 14:14, speaking to you and me – "Quiet your restless soul, focus your mind, and recognise that I am the great I AM, present with you now. Release the burdens of this world into My capable hands. I reign as the Almighty One; My glory and supremacy will be made known across all nations. So rest in Me today; trust that I am actively working on your behalf."
2. Finding Strength in Stillness
In times of adversity, our human instinct may drive us to take matters into our own hands. However, when we choose to be still in God's presence, our faith is strengthened, and we are reminded that we don't have to fight the battle alone. God is with us, and He fights on our behalf. As Isaiah 40:31 proclaims, "But those who hope in the Lord will renew their strength. They will soar on wings like eagles; they will run and not grow weary, they will walk and not be faint."
Christian author, Oswald Chambers, once wrote,
"We have to pray with our eyes on God, not on the difficulties." – Oswald Chamber
This quote emphasises the importance of focusing on the Lord rather than the challenges we face. By doing this, we build a strong faith that helps us stay steady and conquer any difficult situation that comes our way.
3. The Meaning of Being Still
Being still doesn't mean we just sit back and do nothing. Instead, it means taking a quiet moment to pause, like taking a deep breath when you feel overwhelmed. It's like when you have a tough problem to solve – being still means not panicking but trusting that you can figure it out.
Similarly, when we talk about being still in our relationship with God, it doesn't mean being lazy or not taking action. It means taking a moment to calm our minds and trust in God's plan. It's like saying, "Okay, God, I know this is tough, but I believe you have a plan for me, and I trust you to help me through it." It's an active choice to let go of worries and have faith that God is guiding us in the right direction.
Stillness centers us in God's peace and reminds us we are not alone. When life feels out of control, we can find calm by retreating to that inner quiet place where God meets us. We can listen to His guidance, believing He will support and strengthen us for the tasks ahead.
Though the path may not be clear, we can have the courage to take the next right step. God fights for those who wait on Him.
Recommended Articles for Inspiration: 
‣  Overcoming the Storms of Life
‣  From Pebbles to Diamonds: God's Promise of Lasting Joy
‣  How to Move From Confusion to Clarity – With God's Help
‣  Overcoming the Storms of Life
‣  Peace: Our True Strength | Haly Inspiration
4. Stillness in the Midst of the Storm: God's Deliverance
Just as the Israelites witnessed God's miraculous deliverance at the Red Sea, we too can experience His saving power when we trust in His ability to fight on our behalf. In times of crisis, when all seems lost, remember the words of Psalm 37:7, "Be still before the Lord and wait patiently for him; do not fret when people succeed in their ways when they carry out their wicked schemes."
God's timing is perfect, and He works all things together for our good (Romans 8:28). Even when we can't see the way ahead, staying calm and patient allows us to see God's mighty hand working, bringing victory in situations that may seem impossible.
5. Word of Encouragement: Have Hope – God Fights for You
Take heart today! The Lord sees the difficulties you are facing. And He promises to fight for you! You need only be still in His presence, fixing your eyes on Him, trusting in His mighty power and unfailing love. Release the situation into His hands. He knows the way through this trial and will make a way. You can have confidence that God will bring deliverance and victory, even when you do not see the path ahead. Be filled with hope, for the battle belongs to the Lord. Our God is faithful – He will fight for you, so you can experience His peace as you wait on Him. Be still and know that He is God.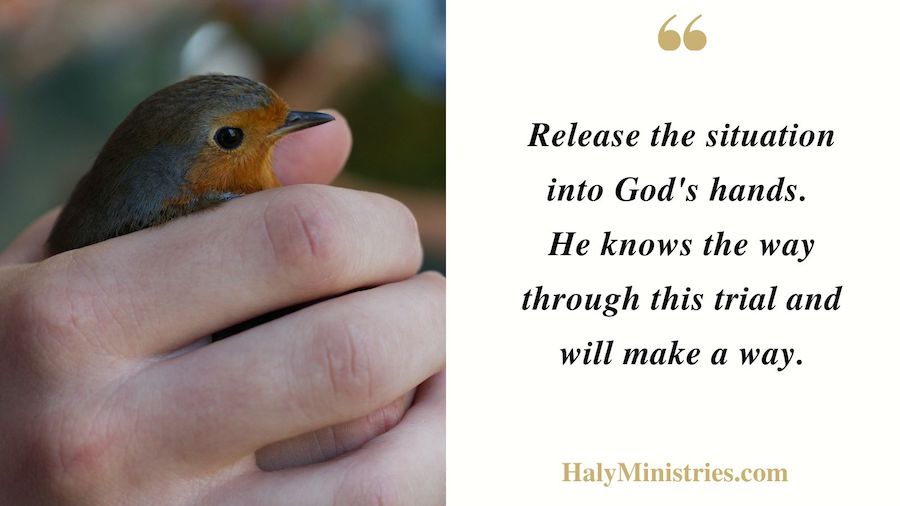 God stands by you in the midst of life's battles. In Deuteronomy 31:6, we find these reassuring words: "Be strong and courageous. Do not be afraid or terrified because of them, for the Lord your God goes with you; He will never leave you nor forsake you." This verse reminds that you can face any challenge with courage, knowing that God is always with you.
You are not alone in your struggles. And with God on your side, victory is assured. Keep your eyes on Him and He will guide you through every challenge, making a way where there seems to be no way. Be still and know that God's faithfulness is a shield that surrounds you, bringing comfort, strength, and hope in every trial.
Closing Message
In a world that encourages us to take control and constantly strive for success, the Bible reminds us that there is power in being still before the Lord. Through the example of the Israelites at the Red Sea, we learn that God's deliverance comes when we surrender our struggles and trust in His ability to fight for us. 
As we meditate on Exodus 14:14, let us also remember the words of Isaiah 30:15, "In repentance and rest is your salvation, in quietness and trust is your strength." So, in the face of challenges, let us take a step back, be calm, and allow God to fight on our behalf. May we find comfort in knowing – God is in control and His plans for us are far greater than we can imagine! So next time life gets chaotic, take a breather. Let God fight for you, and watch Him turn your situation around!
I hope this word has encouraged you to trust God more fully in the challenges you face. What are some ways you can practice stillness and see God fight for you? I'd love to hear your thoughts in the comments below.
May you find peace as you rest in God's presence today. Abundant blessings! – Shalom, Haly 🙏💕