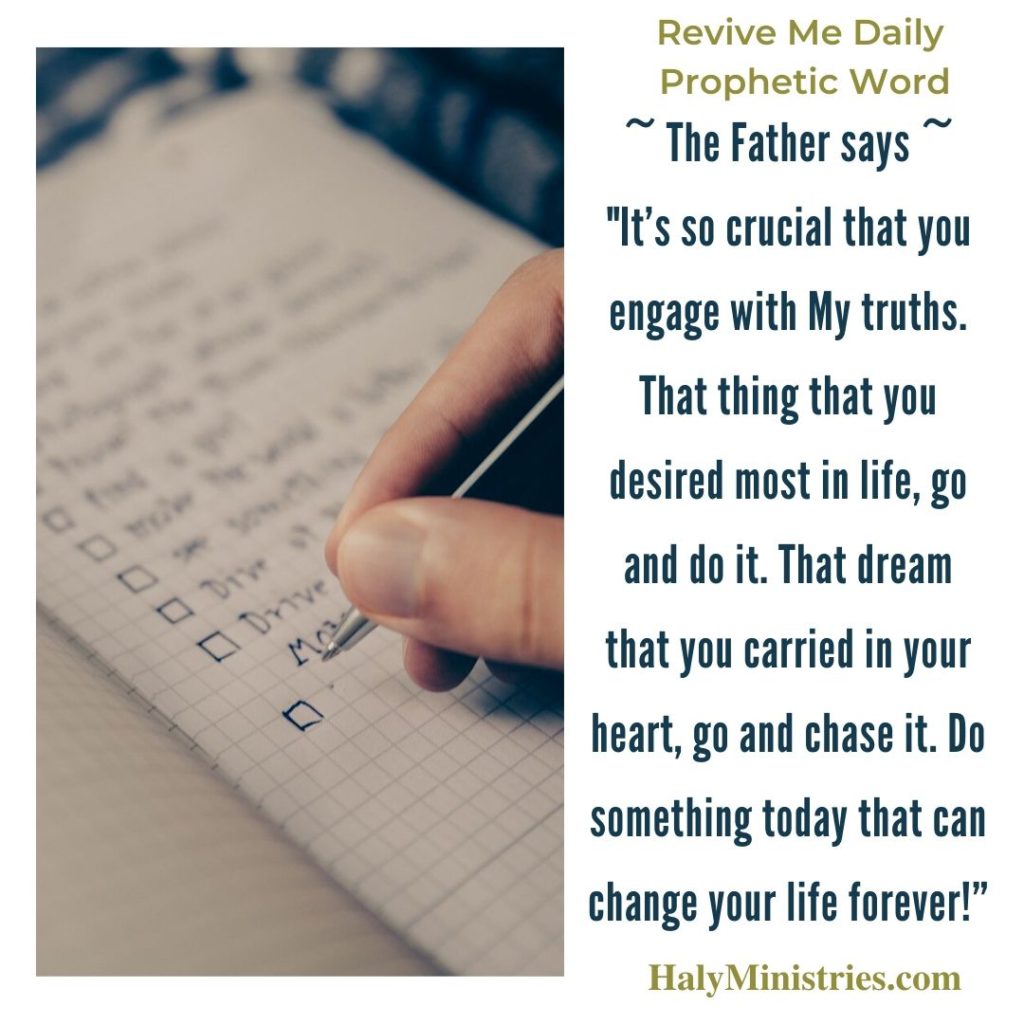 This is a Revive Me Daily Prophetic Word – Do Something Today that will Change Your Life Forever!
The Father says today, "My faithfulness is great towards you. No power can diminish it. No scale can contain my goodness. There is no end to My faithful love.
Look around. What do you see? It's Me, speaking to you through creation. It's Me, showing you that My faithfulness is as broad as the day. I know your deepest need. Come and deep into the kindness of My love. 
When the waters try to swoosh you, I am there with you. When you go through a difficult time, I protect you and do not allow you to be shaken. When you face the fire of oppression, you are not alone. I am there by your side, guiding and strengthening you. I reassure you that if I, your God with you, then do not fear. Do not fear your future. Do not dread being alone. I am your Shepherd and I am the good One. I have promised not to leave you. 
I swore by Myself to Abraham to bless him and multiply his descendants. You are a descendant of Abraham. Now that you belong to Christ, you become a true child of Abraham. And if you are a true child, then a true heir. And if you are Abraham's heir, then all the promises to Abraham belong to you too. 
Are you able to count Abraham's blessings? I blessed him with immeasurable riches of My grace and kindness towards him. He was the richest and most powerful man on the earth. If I blessed him, is My hand too short to bless you? 
I am the same and I do not change. I showed My kindness to My son Abraham, then how much more I desire and long for to bless you and show My kindness to you. 
It's so crucial that you engage with My truths and be attentive to My sayings. Listening to negative reports will drift you off the course. Paying attention to hopelessness rather than trusting and hoping in Me, will lead you to greater challenges where all you see is hopeless despair, pain and depression.
Before I healed someone, I asked them to do something. I did it for a purpose – that the eyes of their hearts might be enlightened and they could focus not on the problem but the solution. That thing that you desired most in life, go and do it. That dream that you carried in your heart from your childhood, go and chase it. Do something today that can change your life forever! And trust in My faithfulness."
I hope this word has helped you and encouraged you. If you have any questions, thoughts or story to share, please leave your message in the comments below. Thank you. Shalom, Haly.
Latest Articles: