Here is the prophetic word, "God's Invitation". The verse which is an anchor for this word is from Jeremiah 33:3, "Call to me and I will answer you and tell you great and unsearchable things you do not know."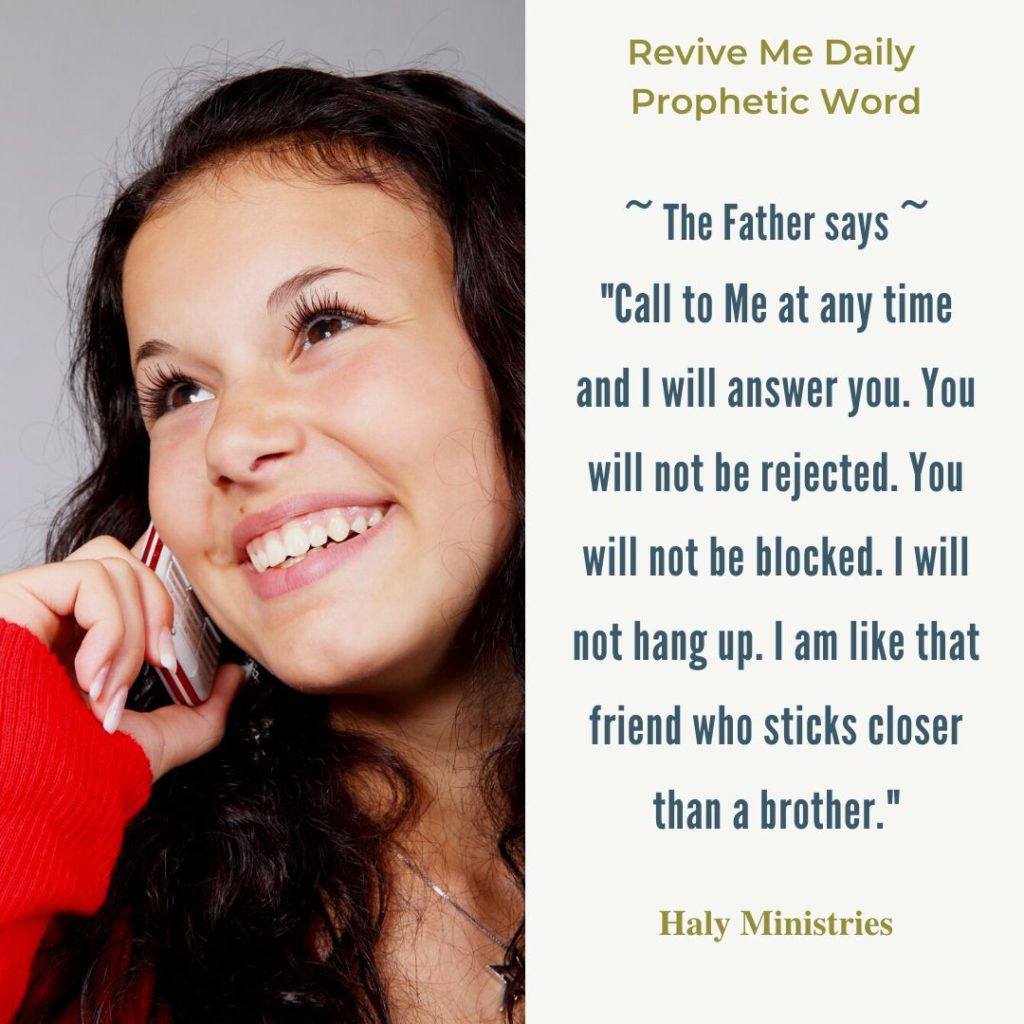 The Lord is saying, "If I had a telephone and you knew my number, what would you do? Would you be too shy to call Me because you think I am too busy with other tasks and there is no time for you? Or do you think I will not press the answer button because the guilt of past mistakes is telling you that?
Many people have many reasons not to answer. I do not have those reasons. My telephone line is always free. You can call Me at any time, at any hour. To receive My answer, you do not need to gain access. You do not need to come to Me with your accomplished tasks to hear My voice.
I have My phone with Me all the time and I am always ready to press the green button. You will not be rejected. You will not be blocked. I will not hang up. I am like that friend who sticks closer than a brother. I am always excited to hear your voice, to hear about your good times and bad times. You can tell me everything! You do not need to hide anything.
You do not need to choose the right words to speak to Me. You can come as you are and can be free to express your emotions. You can laugh, you can cry, you can be angry. I will not turn down the volume. I will listen to your story until the end. That's what friends are for, aren't they?
I am a good friend. I am never busy for you. I love being with you, hanging around like good friends. I can distinguish your voice from billions of other voices. Even before your call, I am going to answer. How? Is there anything hard for Me? Even before I hear your voice, everything starts taking the right direction in your life.
What are you waiting for? Call to Me, and I – your friend, will answer you. I will tell you of great things, things beyond what you can think of or you can imagine. I will tell you some of My secrets about what is going to happen in the future. I did not hide My plans from Abraham, and I will not hide My plans from you.
I have sent you an invitation. Now I am waiting for your response, Your Father."
Shalom & Blessings,
Haly
Latest Articles: